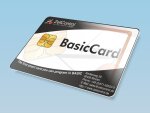 BasicCard
With the BasicCard, any programmer proficient in BASIC will be programming a smart card in no time at all, even without prior smart card experience. BasicCard offers virtually limitless opportunities. You can use it for the most smart card applications like: an E-Purse, Identification Card, Medical Card, Internet Security, Drivers License Network Access, Software Key, Access Control, Gift and Loyalty programs.
Learn more on our website www.basiccard.com
BasicCards are available with customized preprint and personalization also. More informations you will find here.
We offer the following chip modules / cards (ZC8.6 is also available as contactless keyfob):
Enhanced BasicCard
Version
EEPROM

RAM

Protocol
Encryption
ZC3.14
2K
256 bytes
T=1
DES1
ZC3.34
8K
256 bytes
T=1
DES1
ZC3.44
16K
256 bytes
T=1
DES1
ZC3.54
32K
256 bytes
T=1
DES1
Plug-In Libraries for the Enhanced BasicCard: EC-161, AES, SHA-1
1 DES with 56 or 112 bit key size only, 168 bit key size is not supported in Enhanced BasicCard
Professional BasicCard
Version
PK Algorithm
EEPROM
RAM
Protocol
Encryption
Extras
ZC5.4
EC-167, EC-211
16K
1.8K
T=0, T=1
EAX / OMAC / AES / DES
SHA-1, SHA-256
ZC5.5
EC-167, EC-211
32K
1.8K
T=0, T=1
EAX / OMAC / AES / DES
SHA-1, SHA-256
ZC5.6
EC-167, EC-211
60K
1.8K
T=0, T=1
EAX / OMAC / AES / DES
SHA-1, SHA-256
ZC7.4
RSA (4096 bit), EC-p (512 bit)
16K
4K
T=0, T=1, T=CL2
EAX / OMAC / AES / DES
SHA-1, SHA-256

ZC7.5

RSA (4096 bit), EC-p (512 bit)
32K
4K
T=0, T=1, T=CL2
EAX / OMAC / AES / DES
SHA-1, SHA-256
ZC7.6
RSA (4096 bit), EC-p (512 bit)
72K
4K
T=0, T=1, T=CL2
EAX / OMAC / AES / DES
SHA-1, SHA-256
2 T=CL is supported in Combi or RFID subtype only
MultiApplication BasicCard
Version
PK Algorithm
EEPROM
RAM
Protocol
Encryption
Extras
ZC6.5
EC-167, EC-211
31K
1.5K
T=0, T=1
EAX / OMAC / AES / DES
SHA-1, SHA-256
ZC8.5
RSA (4096 bit), EC-p (512 bit)
32K
4K
T=0, T=1, T=CL2
EAX / OMAC / AES / DES
SHA-1, SHA-256
ZC8.6*
RSA (4096 bit), EC-p (512 bit)
72K
4K
T=0, T=1, T=CL2
EAX / OMAC / AES / DES
SHA-1, SHA-256
2 T=CL is supported in Combi or RFID subtype only
* also available as contactless keyfob
---
---
---