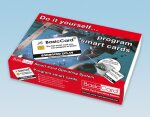 Development kits
The BasicCard® is the first in BASIC programmable smart card. This card is easy to use, no special knowledge is necessary and it is competitively priced.
The BasicCard® enables every programmer to create a smart card application within a few hours. Everything you need to start is contained in our BasicCard® development kits.
The BasicCard® Development Kit is the starting point for your contact smart card application development.
The Dual Interface BasicCard® Development Kit is your starting point to add proximity / contactless capabilities to your application.
For the development of proximity / contactless solutions using transponders have a look at our RFID development kits.
---
---
---