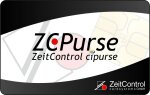 CIPURSE
The CIPURSE open security standard adresses the need for future-proof transit fare collection systems with a higher level of security than is currently in use. Fare collection solutions based on CIPURSE provide state-of-the-art technology and security for transit operations of the 21st century.
As an open standard, CIPURSE promotes vendor neutrality, cross-vendor system interoperability and lower technology adoption risks - all of which result in lonwer operating costs and greater flexibility for transport system operators. CIPURSE is also the way to achive cross-device, cross-transit-system commonality and faster transition to the use of NFC devices. It is portable to memory, controller and NFC platforms. The CIPURSE standard also offers a royalty structure in keeping with the spirit of open standards. Transport operators and other users of products will not have to pay additional fees.
Following variants are available:
Product
Form Factor
Profiles¹
Memory
ZCPurse L
Plastic card
L
512 Bytes
ZCPurse S 2k
Plastic card
L, S
2 kByte
ZCPurse S 4k
Plastic card
L, S
4 kByte
ZCPurse T 8k
Plastic card
L, S, T
8 kByte
ZCPurse T 12k
Plastic card
L, S, T
12 kByte
ZCPurse SAM²
Plastic card, SIM
L, S, T (SAM)
12 kByte
 
 
 
 
¹ Supported CIPURSE profiles
² The ZCPurse SAM implements the CIPURSE SAM specification
All profiles are certified (see certificate below) and available in other types of shapes such as a keyfob!
CIPURSE and OPST are registered trademarks of the OSPT Alliance in Germany and other territories.