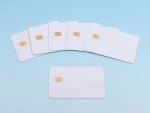 Memory chip cards
Memory Cards are available with or without security feature.
Most popular are plain memory cards without security function. However, these cards can be read and write by everyone. E²Prom cards with a simple security logic are more sophisticated. They can be read by everyone also, but to change the datas you need a PIN. Typical variations are SLE5542 with 256 Byte or SLE5528 with 1 Kbyte E²Prom.
Memory cards are available with customized preprint and personalization also. More informations you will find here.
Please contact us for a price offer!
All these memory cards can be found in the following table and are part of ZeitControl's range of products. 
Name

Memory cards
without securiy logic

Memory cards
with securiy logic

ZCM02X

ZCM16X

ZCM64X

ZCM128X

ZCM256X

ZCM512X

ZCM1024X

ZCR02X

ZCR08X

Chip

14C02

24C16

24C64

24C128

24C256

24C512

24C1024

SLE5542

SLE5528

Type

E²PROM

E²PROM

E²PROM

E²PROM

E²PROM

E²PROM

E²PROM

Secure E²PROM

Secure E²PROM

Protocol

I²C-Bus

I²C-Bus

ext. I²C-Bus

ext. I²C-Bus

ext. I²C-Bus

ext. I²C-Bus

ext. I²C-Bus

2-wire

3-wire

Memory size

256 Byte

2 kByte

8 kByte

16 kByte

32 kByte

64 kByte

128 kByte

256 Byte

1 KByte

Security-
logic

none

none

none

none

none

none

none

3-Byte-PIN
for writing

2-Byte-PIN 
for writing
---
---
---